10 Types of Massage Offered at Firefly Wellness Day Spa
Our day spa employs massage therapists trained in a variety of specialties, giving you 10 types of massage modalities to choose from on your visit.
How our Therapists Are Different and What Type of Massage is Best for You
Our massage therapists work hard to learn more about you and the types of activities and work you do so they can best prescribe the modality that will alleviate any issues you may be experiencing, often blending different modalities into one session.
Whether it's recovery from an injury or accident, stress relief, pain relief from sports or sitting in front of a computer all day; our therapists will work with you to ensure you are getting the best possible experience during your 30, 60, or 90-minute massage.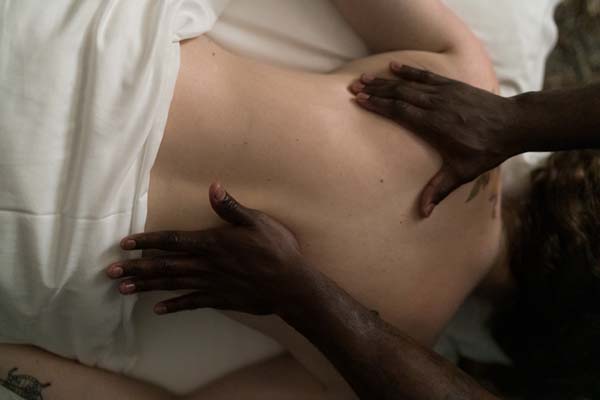 10 Types of Massage Modalities to Choose From
Swedish Massage
If you've never experienced a massage before, or are sensitive to touch, we often start with a Swedish massage. Our therapists will use this technique if you are seeking a relaxing massage that will release the tension in your muscles and provide a soothing experience that might just lull you to sleep.
Deep Tissue Massage
For those who have a high tolerance for pain, have muscle problems or chronic pain; deep tissue massage may be for you. Deep pressure is applied, allowing the massage therapist to reach deeper layers of your muscles and creating a more intense experience.
Hot Stone Massage
Just as the name implies, our therapists use hot stones in this massage technique. The stones help improve blood flow and relieve pain. The heated stones are placed around your body and used to apply deeper pressure on sore areas or tight muscles.
Sports Massage
For athletes, the benefits of sports massages are two-fold: they aid in post event recovery and help prevent further injuries. Sports massage can also increase both flexibility and performance.
Reflexology
Reflexology is a type of bodywork where pressure is applied to major pressure points on the hands and feet. These points correlate with various organs and body parts through energy channels in the body. Applying pressure to these points on the hands and feet removes energy blocks and promotes health in those areas of the body.
Prenatal Massage
Pregnant women can safely and comfortably seek relief from discomfort with prenatal massage, often provided on a table in a side-lying position. Prenatal massage helps with aches and pains associated with pregnancy and can help alleviate stress and anxiety.
Cupping
Cupping became more popular in the United States when Olympic swimmer Michael Phelps arrived at a competition in 2016 with purple circles on his back from a cupping treatment. Cupping uses special cups that provide suction and negative pressure, pulling muscles as opposed to typical massage which pushes on the muscles. Cupping helps relieve pain, loosen muscles, and encourage blood flow; leaving you feeling more relaxed.
Cranio-Sacral
CranioSacral Therapy (CST) is a gentle, hands-on therapy that alleviates headaches, muscle pain, anxiety, pressure, general strain and chronic pain. CST works with the cerebral spinal fluid, cranial bones and connective tissue to relieve restrictions in the body and create synchronicity of these symptoms.
Couples Massage
With two massage tables alongside one another, couples massage requires two therapists working together to bring comfort and relief to two individuals. Couples massage does not have to be for a "couple" in the traditional sense. Quite often, mothers and daughters, best friends or anyone can come in and save time by combining two treatments at once, while chatting with one another or relaxing in a quiet atmosphere.
Chair Massage
Chances are you've seen or experienced a chair massage while walking through a mall or farmers market. Chair massage is great for busy people who work at a computer all day since the therapist can focus on the trouble areas that normally arise from desk work: shoulders, back, arms and neck. Corporate wellness programs are also bringing chair massage to their employees and we are pleased to be able to provide this service to offices and small businesses in San Diego.
Which type of massage is right for me?
If you're not sure which massage technique is right for you, our massage therapists will be happy to provide you with some guidance as they help create a wellness plan that can help you improve your sleep, boost your mood and leave you feeling relaxed and ready to take on the day.