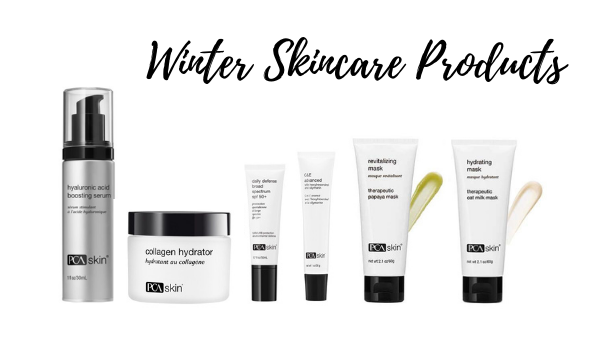 Winter Skincare Routine and Products
We may not get snow and below-zero temps in San Diego, but we should still revamp our skincare routine when the seasons change and colder weather arrives. Dry skin, chapped lips, and inflamed redness can all crop up thanks to low humidity, hot showers, or indoor heating systems running overtime. Skin texture can look dull, rough, and lifeless as a result.
But a glowing complexion during winter isn't an impossible dream. Incorporating the right kind of products will protect our skin in the upcoming months so it looks vibrant and healthy. Here are some of the most common questions I'm asked as an esthetician, along with my advice on how to best care for your skin this winter.
What's the one essential daily product I should add to my skincare routine?
A rich daily moisturizer. Many people tend to use lightweight creams or lotions during the heat of summer, but you need the extra hydration that comes with a luxurious, emollient cream. PCA Skin's Collagen Hydrator is great for quenching thirsty skin with antioxidant-rich fruit extracts that help your complexion look firmer and well-moisturized. 
Are there certain ingredients I should look for in winter skincare?
You can never go wrong with Vitamin C, which is a terrific antioxidant that nourishes and protects the skin. PCA Skin's C&E Advanced offers superior hydration with 20% Vitamin C and a skin-brightening formula featuring Hexylrescorcinol and Silymarin. Hyaluronic Acid is excellent for hydrating skin for long-term anti-aging benefits. It's the key ingredient in the Hyaluronic Acid Boosting Serum, which also features ceramides, another winter superstar for preventing moisture loss.
What kind of masks are ideal for colder months?
Stay away from harsh skincare masks that remove moisture from the skin. Firefly offers two PCA Skin masks that are well-suited for winter. The Revitalizing Mask nourishes the skin with antioxidant-rich green tea and Vitamin E, and soothes with honey and papaya enzymes. For skin that tends to be extra dry in winter, get a boost of moisture with the Hydrating Mask. The oat milk soothes skin that may be red and irritated from cold weather while also helping maintain moisture.
Can I skip sunscreen on cloudy days?
Sunscreen is a must every day of the year, no matter the season. In San Diego, we still get plenty of sun, and even on cloudy days, certain types of UV rays can break through. Your complexion needs the protection from sun damage that can cause wrinkles and lines, hyperpigmentation, and other skin issues. Keep skin supple and shielded from too much UV exposure with the Daily Defense SPF 50. It's my favorite new product for broad-spectrum protection that looks beautiful on the skin—and it's also great for the planet with an environmentally friendly formulation.
If you have additional questions about your skincare regimen and how to fine-tune it this winter, contact Firefly to set up a Virtual Skin Consultation. All of our estheticians will be happy to discuss options with a customized facial appointment. You can also visit our online shop and get any products you need for beautiful skin all year long.